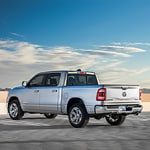 Ram 1500 has always been known for its safety features. When you purchase a Ram 1500, you're getting the latest in security technology. One of these new features is the introduction of adaptive cruise control that will maintain your speed and distance from other vehicles on the road at all times to help avoid collisions. With this new feature, drivers can enjoy an improved driving experience without having to worry about constantly adjusting their speed or maintaining proper distance between themselves and other cars.
The 2021 Ram 1500 also includes standard forward collision warning, automatic emergency braking with pedestrian detection, driver alert system (DAS), lane departure warning with lane keep assist function, blind spot monitoring with rear cross-traffic alert as well as trailer tow monitor which provides alerts when it detects that you're about to hit an object or another vehicle while passing or parallel parking.
With the introduction of all-new 2021 Ram 1500, engineers have made it their priority to ensure that this model will be one of the safest trucks in its class.