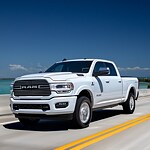 When you think of trucks, you want a powerful one that will help you move around quickly. You want one that has a large bed capacity and good ground clearance. The Ram 2500 at Betten Baker CDJR Big Rapids gives you all these features in one package.
To start with, each Ram 2500 has a kick-out bed step to help you easily access the truck's bed. It also has power boards that automatically retract and engages whenever the door is opened and closed to ease entry and exit. The brilliant LED lights on the bed help you to continue working even at night. For ease of driving, the headlights are strategically placed at the right height, thus giving you a perfect view of the road when driving. The rugged look and powerful body helps you go anywhere and enjoy whatever the Ram 2500 has to offer.
Visit us at Betten Baker CDJR Big Rapids to have a test drive and learn more about what the Ram 2500 has to offer.